Making good money with CPA offers is much easier than one might think…and it has proven time and again, to be one of my best income streams!
What is CPA??
CPA is a fancy acronym, which stands for: (Cost-Per-Action)…
CPA is a type of affiliate marketing platform, where YOU, the (affiliate)…get paid when a visitor completes a (specific action)…such as…entering their email address and name into a form.
These types of CPA offers are called (email-submits) or (email-zip-submits), are the easiest to convert, with overall conversions ranging from (20%-35%)…
those are some good numbers and with some modest promotional effort on your part, can yield a nice monthly income.
Email / Zip submits usually pay between ($2-$3) per action…
Their are several (CPA) offers, where the visitor is required to enter more personal information in these forms…
Such as, Full name, address, phone number and perhaps a credit card number, for (trial-offers).
Of course, the more information a visitor is required to give, the more the (pay-out) $$$ for that offer will be!!
Anywhere from ($20) to ($200)…it all depends on the offer.
Where do I find Good (CPA) Networks…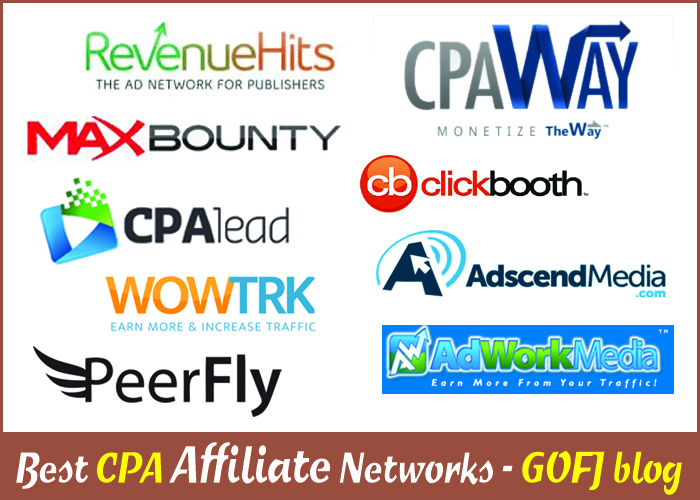 There are several Good and reputable CPA networks at your disposal…which have been puctured above by my friends at (GOFJ blog).
Some of the best of these Networks, in my opinion are:
1) MaxBounty
2) Clickbooth
3) Peerfly
4) CPA lead
5) CPA way
…just to name a few!!
Just to be clear, you'll have to join each of these (CPA) networks…
and Yes, you'll have to go through a short phone interview, with your CPA (Affiliate-Manager), in order to get accepted into that particular network.
Now, don't get all freaked-out about this short phone interview…
the affiliate manager just wants to know that you have a working knowledge of affiliate-marketing and what and how you intend to promote their CPA offers.
I highly suggest calling the individual CPA Networks…right after you complete the sign-up process!!
 This will show a seriousness and a degree of professionalism on your part and will usually get you approved within (20) minutes it so…
I simply inform the CPA Network (affiliate-manager)…that I have been involved with affiliate marketing for a few years, now…
and that I intend to promote their CPA offers on my website, other various websites, YouTube, forum marketing and other Social media platforms…
I also inform my affiliate managers that I will run several (paid-traffic) campaigns as my chief traffic source…
along with the (Free), Organic traffic that my website's, YouTube channel and Social Media posts already receive…
And that's it!!
Congratulations…You just Sold Yourself to the CPA Networks!!
You Now, Sound Professional and Very Knowledgeable about CPA offers and how to promote them!!
Believe me, the CPA networks will Love to Have You Come Aboard and Promote their CPA offers!!
Use OfferVault and Odigger to search specific (CPA) offers…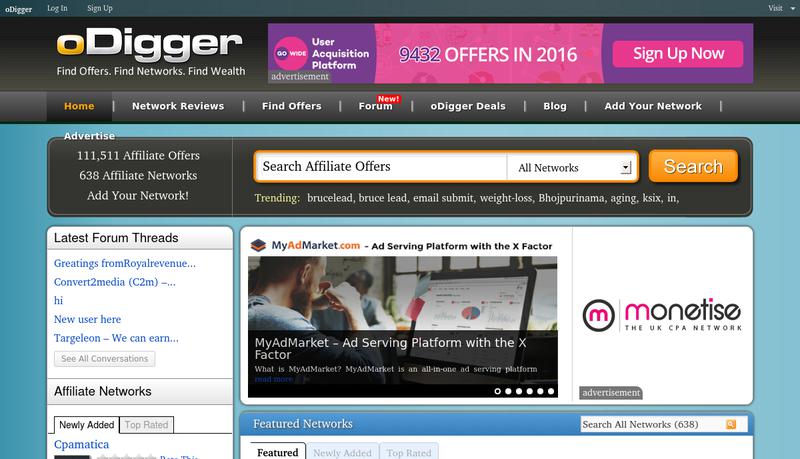 If you would rather Search for a specific offer directly, then Odigger and OfferVault work nicely for this.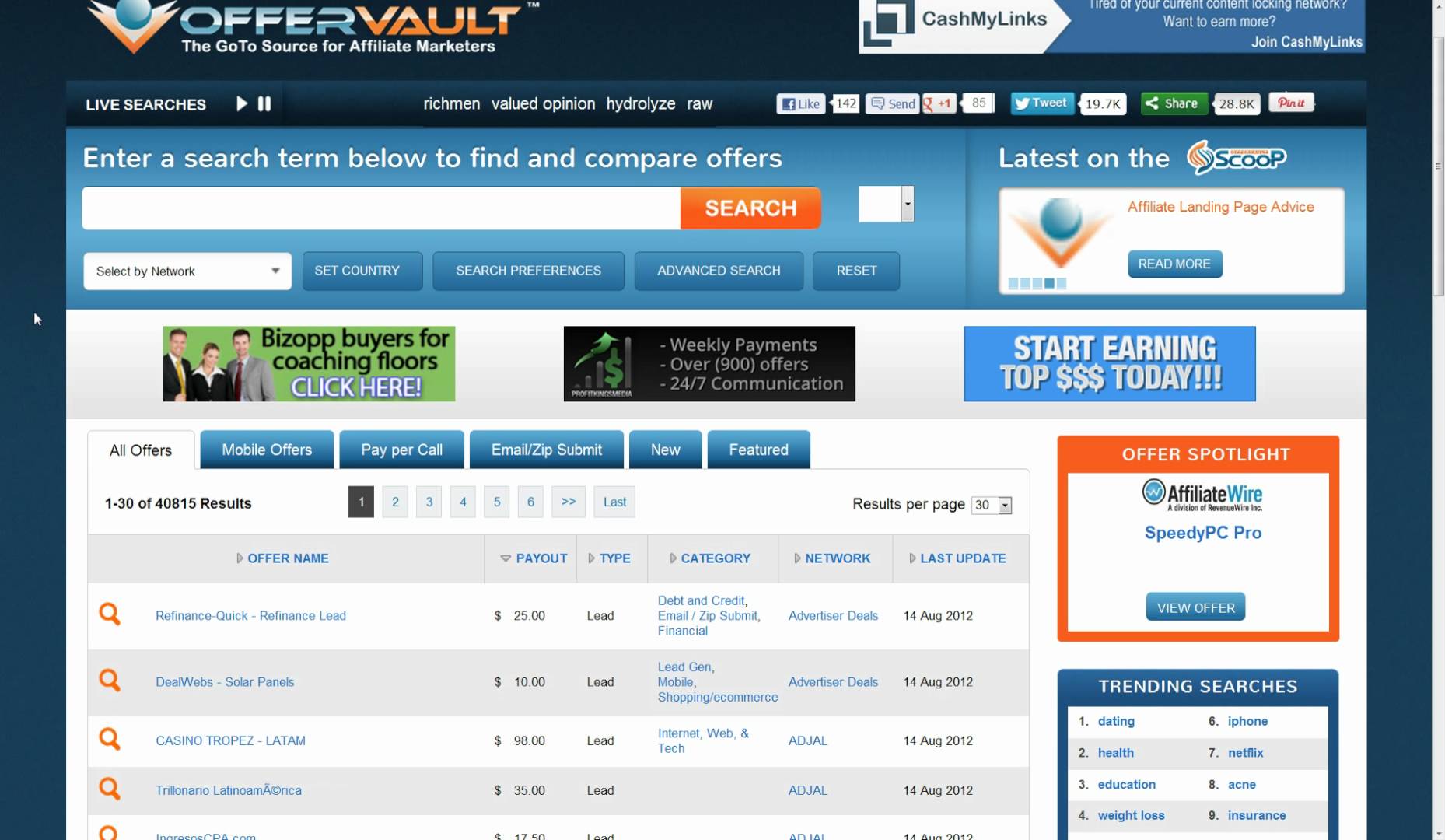 Simply go to either or both sites and enter the specific Search term that your looking for and all applicable CPA offers, for that term will be displayed along with which Network is hosting that particular offer…
Then simply click on a desired offer and more detailed information about that offer, will be displayed…
Such as, the type of offer, the amount paid, for the completed action and what type of traffic is allowed!!
Odigger and OfferVault are some seriously powerful tools you can use to laser-target the best CPA offers to find and promote, for any Niche Site!!
(CPA) offers are one of the highest converting affiliate offers you can promote!!
and when integrated into your Niche Website, correctly, can earn you good commission for months and years to come!!
If you really want to see an increase in your overall affiliate conversions…and ultimately, the money you earn from your Niche Site, month after month,
then I highly Suggest integrating (CPA) offers into your Niche Website!!
I like to do (2) or (3) different CPA Product Reviews, from the same Niche and integrate the best of those CPA offers within those Reviews!!
Once I have found the highest converting offer…I then build a (micro) niche site around that particular CPA offer…and let the revenue roll in, month after month!!
My (micro) Niche Websites are much smaller, containing only (4) pages and (2) posts…with a primary CPA Product Review and one supporting post.
And that's it!!
I simply drive (laser-targeted) paid/organic traffic to that micro site, and let the conversions roll in!!
Get Your Conversions
So, if you consider investing, just ($20) per day for a (targeted traffic source), like paid email marketing, or sending specific CPA offers to your list…
combined with some good 2ND tier (Pay-Per-Click) PPC, advertising, then you could earn generous affiliate CPA commissions…upwards of ($80-$100) per day!!
Now…that's some good money, from just one Monetization method!!
It all depends on your Niche and which CPA offers you choose to promote…along with your dedication to (split-testing) campaigns, while scaling up the more successful ones.
I sincerely hope you've found something useful in this short post on integrating CPA offers into your Niche Website…Thanks for Reading!!
If you'd like to see how I earn a (Full-Time-Income) from Niche Website affiliate marketing…
Please feel free to reach out to me anytime…I really enjoy collaborating with my readers.
If you have a particular Make Money Online Product you would like me to review…just leave a note below and I'll be sure to include it on an upcoming Make Money Online Product Review!!
Thanks again for visiting
and have a wonderful day:):)