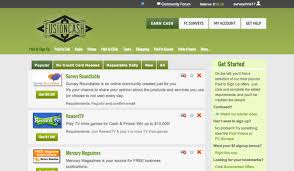 I was recently asked by a makemoneyonlinepatrol.com visitor…
Can you really make money online with Fusion cash.net, or is it just another scam??
So today, I thought I would do a thorough product review of (Fusion cash.net) and give you the skinny on whether or not this product is worth anyone's time!!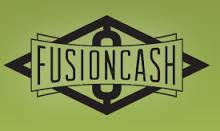 Product Overview:
Product Name: Fusion Cash
Product Website: fusioncash.net
Product Owner: No Product Owner listed
Product Price: ($0) to join**
Overall Rating: 2/10
**Please Note…once you sign-up for these (free-trial) offers with Fusion Cash, which requires a credit card, you will be billed each month for the offer!!
**Be Aware, Very Aware!!**
Let me just say right-off, you can make a little money with this product…but just know, that you'll have to do a mix of No credit card offers, along with some credit-card-required, sign-up offers.
Fusion Cash offers you ($5), just for signing-up…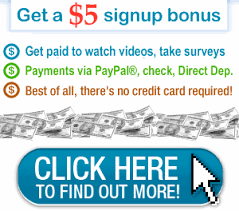 Real money ($5) that you can use for paid offer sign-ups or you can save it, until you reach the ($25) threshold, the point at which you can withdraw your money…
Or have it transferred directly to your bank account.
In addition, to this…you also have to be very aware, that some of these offers will require you to link-up a bank account in your name, so they can deposit money from these offers, into your account.
I would advise you to Never Do this!!…Since these vendors will have access to your bank account and routing number, so they could potentially Empty your account at any time!!
Now I'm not saying that Fusion Cash will have a program that will steel your money, you just got to be very careful, with these type of programs!!
Do your research before joining any of these programs!!
Fusion Cash also has additional programs, which you can apply for, like…
Paid-per-click
Radio programs
Paid to Search
Videos
Shopping
Friend Referral
Again, just keep in mind that many of these programs will require a credit card, or bank info…to sign-up!!
Final thoughts:
In the end, you can make a little money with Fusion Cash and programs like it…but it's really Not enough to make it worth your while!!
And the potential downside of having to provide very personal information and bank account link-ups, and credit card required, for offers…make it a very unattractive system.
I only give Fusion Cash a (2/10) overall performance rating!!
If you want to learn more about the #1 system that I recommend for making Real money online…
I'm talking about a Very Powerful Affiliate Marketing Platform that was developed by my friends Kyle & Carson…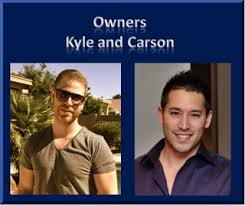 Two, very Honest and Ethical individuals, who just wanted to develop a system, where, nearly anyone can learn how to make Real Money Online.
This amazing Affiliate Marketing system is called Wealthy Affiliate, or (WA).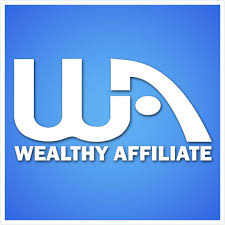 Wealthy Affiliate was designed with the beginner in mind and features…tons of (high-quality) Video Training, that shows you step-by-step, the best way to make Real money online, month after month.
I'm talking about a system that will work for years to come…
I'm talking about Building a Niche-Specific Website Business, that will earn you good money each and every month!!
And as your Niche Website Business begins to age, the money you can make from all of your affiliate offers…is really limitless!!
You just need the complete, A to Z affiliate marketing, training process!!
That will help you achieve online Success!!
Well, WA has Got this A to Z Training Process!!
You'll Never need to purchase another "How to make money online" system again!!
Whether you start with the Affiliate Bootcamp Course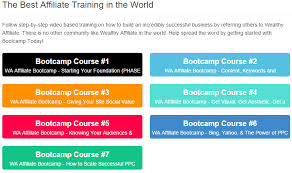 Or you decide to begin with the Online Entrepreneur Certification Program…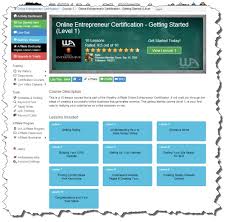 All training comes with high-quality video tutorials that are narrated by Kyle.
There's also accompanying tasks, which must be completed, before moving on in the training.
And if you get stuck along the way Wealthy Affiliate has got you covered with the absolute Best (24/7) Customer Support!!
Wealthy Affiliate is absolutely FREE to join and test-drive for (30) days…
If you like what you see at WA, just Sign-Up as a Premium Member and pay only, ($19) per month…
And that's it!!
Wealthy Affiliate, will even let you build (2) Absolutely, FREE Niche Websites and host them @ WA…
So, you can get started earning money right-away!!
Wow…that's an incredible value!!
So, what are you waiting for?? Sign-Up with Wealthy Affiliate today, for FREE!!
I hope you enjoyed this Fusion Cash product review and found some helpful information along the way…
I look forward to any and all feedback, you may have!!
Just drop a note below and I'll get back to you right-away!!
If you havea "make money online" product, that you'd like me to do a Review on…
Just leave the Product Name below…
And I'll be sure to include it in an upcoming post!!
Thanks again for visiting Makemoneyonlinepatrol.com
Have a Wonderful day!!
Florence